Services
What we do
Products
Drapery
Lighting
Dressing
Extras
Galleries
Venue Search
Venue Style
Inspiration
News
News
All about dressing your venue

A Venue Transformation or Wedding Design service is not something that everybody considers for their event so we've tried to answer some of the more common questions below…
What is Venue Transformation?
Venue Transformation, also known as venue styling or event design, is a process that involves the use of wedding drapes, lighting design and other decoration ideas to change the look, feel and even layout of your chosen function venue to help you get the most out of it. The ideas can be used to disguise unattractive parts of your venue, highlight the attractive parts or to create new areas inside an existing space.
How does the reception décor process work?
From our conversations with you we'll ascertain your styling ideas, thoughts, likes, dislikes, price range and venue details and provide you with some décor suggestions to consider. Following this we can come and meet you at your venue to discuss how certain design ideas and decoration products will work in your venue and suggest any other creative ideas that may work well. We shall then, provide you with a full quotation, schedule, drawings and plans as necessary. On the day itself we will arrive and set up at a time that will work with your agenda, be around to make sure everything goes ok, and pack it all up afterwards.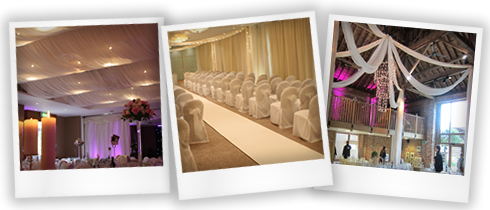 Why should I dress my venue?
Your reception venue is probably the biggest single cost of your wedding day and you and your guests could be spending a lot of time there. Making your day unique is important, especially if you're using local venues that your guests may already be familiar with. That's why transforming the look, feel and even layout of your venue can help towards giving people an unforgettable experience.
How much does it all cost?
Prices vary for each idea, each venue and each occasion. We can quickly provide you with an idea of costs when provided with a small amount of information on you and your venue. We are also happy to work to a fixed budget or provide you with some rough price guides. We can supply you with a complete price list and catalogue; just go to our 'Catalogue' page.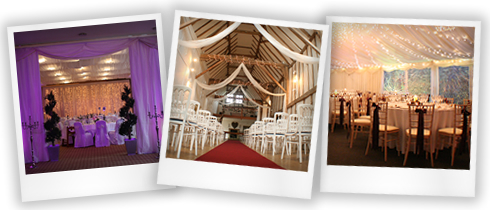 What is wedding lighting?
Wedding lighting involves using a special lighting design to either compliment or replace the existing lighting your venue has. Wedding lighting designs can be used to create a desired effect such as an intimate dining area of a contemporary dance floor area. The process involves consultations and site visits to ascertain what lighting will be needed to create the desired effects at the desired times during your day. The ideas and the lights themselves are the same as those used in theatres, shows and events to create similar effects.
Do you cover where we are?
We are an Essex based company but our specialist services get us enquiries from all over Great Britain. We are happy to come to you wherever you are, the only thing that changes is the delivery price.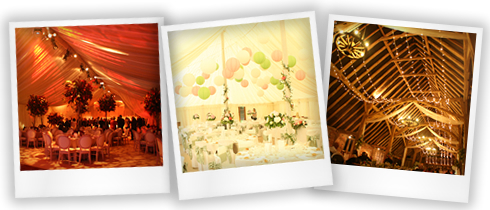 Will my venue be ok with the idea?
We are always keen to keep venues happy. None of the standard venue dressing products we use need to be attached to, or will cause any damage, to your venue. When designing your transformation we consider your venue's suggestions and ensure all heath and safety requirements are met. Once you've made your booking with us we can provide your venue with a document that details what we plan to do and how and when we plan to do it. This means that there are no big surprises on the day.
I have a limited budget, is this a problem?
We are happy to work to a pre-set budget to help transform your venue; all you need to do is tell us how much you have budgeted for. We can also supply you with a complete price list and catalogue; just go to our 'Catalogue' page.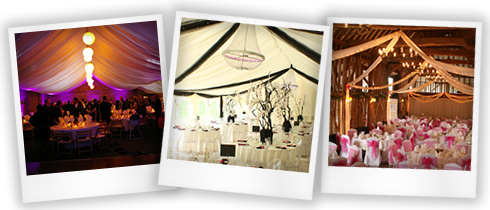 Do I have to set anything up myself?
All our prices include all labour as well as all the bits and pieces we need to make the ideas work in your venue. This means that we are there to set up and pack down when we need to be, we can even be on site all day if required.