Services
What we do
Products
Drapery
Lighting
Dressing
Extras
Galleries
Venue Search
Venue Style
Inspiration
News
News
We know venue dressing inside and out!
We are a Colchester based company but serve Essex, Suffolk, London, Hertfordshire, Norfolk, the whole of the South East / East of England, and regularly travel to other parts of England, Wales and Scotland. We started in 1997 providing party services, but since then we've been developing different décor ideas to make your wedding reception perfect with our unique brand of venue transformation.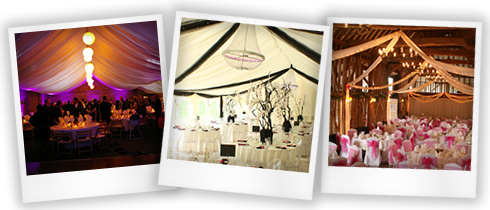 Drawing on experience gained from theatre and events industries we know how to design your dream wedding look. We have a passion for providing creative design concepts that make for great talking points and wonderful memories. There are many venue styling companies around who provide wedding decorations to help make your event different, but provide them is all they do. We understand the importance of integration and design when helping you make your perfect day.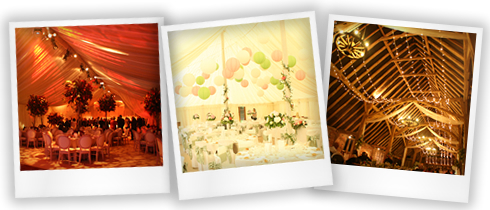 We know that the small things make a big difference, that's why we are dedicated to attention to detail. We are committed to helping you make the most of your wedding venue and to ensuring that the various parts of your reception come together to make a seamless event. But don't just take our word for it; here are just a few of the comments we've received:
We had a fantastic day and thought the room looked amazing.
Buckinghamshire, August
The marquee looked amazing; all the guests commented on it and the bride and groom were over the moon.
Suffolk, July
We just wanted to say a massive thank you for decorating our wedding venue... it really did make our wedding perfect and wouldn't of been the same with out it.
Essex, January
We would have no hesitation recommending your company in the future.
Buckinghamshire, August
On the day I walked in to the room and I could of cried, I was so overwhelmed, it just looked so beautiful.
Essex, January